RoHS & REACH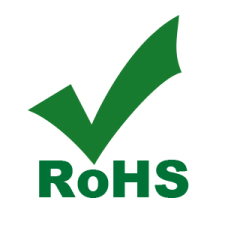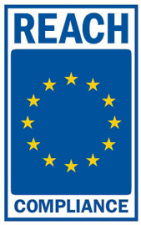 Cosel's approach to RoHS and REACH
All Cosel products are supplied to meet the latest requirements within the RoHS and REACH standards. 
To download the Cosel RoHS Certificates, please visit our Company Certificates page. 
More on RoHS and REACH
The RoHS Directive came into effect on July 1, 2006 (*1). It restricts the use of six substances that negatively impact the human body and the environment (mercury, lead, cadmium, hexavalent chromium, PBB, PBDE.)
The Directive was revised on January 3, 2013. In the new Directive (2011/65/EU:RoHS2), the restricted substances and their tolerated maximum concentration values remain the same. However, the number of product categories was increased and the CE marking requirements were added.
Cosel reduced the content of these six substances in our products to the levels specified by the RoHS Directive in February 2006 and started to display CE-mark on our products complied with the RoHS Directive in June 2015 (*2).
EU official journal ((EU)2015/863) announced that the 4 phthalates (* 4) become the addition to a RoHS Directive newly in June, 2015. And 10 substances shall be restricted from July 22, 2019.
We have investigated the content of phthalic acid 4 and confirmed the production process, etc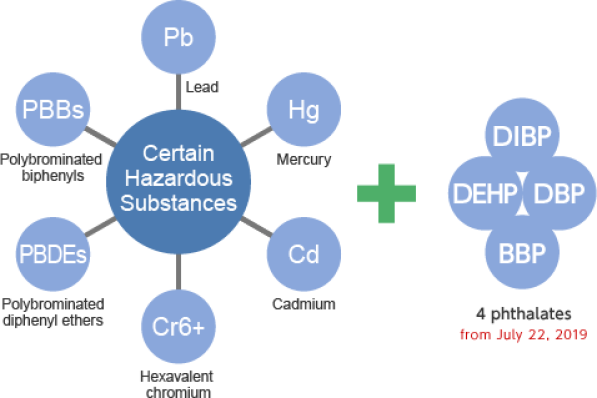 REACH requires all companies manufacturing or importing chemical substances within the European Union in quantities of one ton or more per year to register these substances with the European Chemicals Agency (ECHA) in its database.
Failure to register means the substance cannot be manufactured or imported.
As new substances are added to REACH's list of Substances of Very High Concern (SVHC) every 6 months, we expect our suppliers to quickly inform us of the latest information on contained substances.
Information on compliance with the RoHS Directive and information on SVHC content in the REACH Regulations so that companies that procure Cosel products can quickly and efficiently understand chemical substance content information The Ministry of Economy, Trade and Industry has developed and released the "chemSHERPA Data", an environmental chemical substance transfer tool managed by the JAMP(*3).
(*1) What is RoHS Directive?
RoHS Directive is an EU directive that restricts the use of certain hazardous materials in electrical and electric equipment. The use of six substances, mercury, cadmium, lead, hexavalent chromium, polybrominated biphenyls (PBBs), and polybrominated diphenyl ethers (PBDEs) have been prohibited since July 2006.
(*2) Products that will be out of production are excluded.
RoHS compliant products are marked with the letter "R" at the end of their lot numbers (some products have the letter "R" in the upper right of the label.)
(*3) JAMP stands for Joint Article Management Promotion-consortium
(*4) 4 phthalates
Bis(2-ethylhexyl) phthalate (DEHP), Butyl benzyl phthalate (BBP), Dibutyl phthalate (DBP) and Diisobutyl phthalate (DIBP)
If you need any further support, please contact a member of our technical support team:  techsupport@coseleurope.eu