Cosel and the Environment

ENVIRONMENTAL POLICIES
Cosel has established an environmental policy which represents the company's basic attitudes towards the environment which is shared through the organisation. 
ENVIRONMENTAL PRINCIPLE
Harmonize production and product development with the environment, endeavor to maintain and improve the global environment and thereby contribute to the society.
ACTION GUIDELINE
1. Offer environmentally friendly products.
2. Avoid unnecessary consumption of resources and promote reuse of waste.
3. Reduce and eliminate the use of environmentally unfriendly chemicals and endeavor to improve the global environment.
4. Set and review goals and objectivities to control our activities, work for continuous improvement and prevent contamination.
5. Comply with national and local environmental regulations and align with the needs of customers and local communities.
6. Enlighten employees about environmental preservation including biodiversity conservation through environmental of all employees.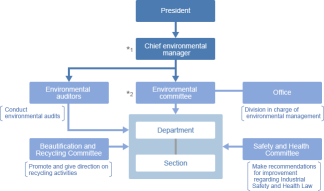 ENVIRONMENTAL MANAGEMENT SYSTEM
Cosel has established an environmental management system to conduct efficient environmental controls
ISO CERTIFICATION
In order to become a company that is trusted by stakeholders, we have acquired ISO14001 certification at our Head Office Plant and Tateyama Factory and are continuously promoting improvement activities. To view our ISO certificate, please visit our company certificates page. 
ANNUAL INTERNAL ENVIRONMENTAL AUDIT
Every year we conduction an internal environmental audit to comply with the requirements of ISO14001. Department managers are informed of the result of the assesment including findings for improvement. 
DEVELOPMENT OF HIGHLY EFFICIENT SMALL SIZED POWER SUPPLIES
When developing new products, we conduct an environmental assessment from the perspectives of resource saving, energy-saving, recyclability, the use or non-use of toxic substances and the environmental friendliness of packing materials. Furthermore, we set up our own criteria to certify and register products that satisfy the criteria and are highly effective in reducing their environmental burden as "Eco Products."
ENVIRONMENTALLY FRIENDLY PRODUCTS & THE SYMBOL
In 2010, we initiated a new internal environmental assessment system in order to promote the development of environmentally-friendly products and actively provide our customers with environmental information on our products. We evaluate our products based on the following 3 items to reduce their environmental burden.
(1)Environmental burdens generated when our products are operated at customers' sites
(2)Environmental burdens generated when our products are manufactured at our plants
(3)Environmental burdens generated when materials and components we purchase are manufactured
Based on these 3 items, we set up our own criteria to certify and register products that satisfy the criteria and are highly effective in reducing their environmental burden as "Eco Products." To promote Eco Products, we have been using the following symbol that represents Eco Products.
TOTAL NUMBER OF ECO PRODUCTS
We will actively expand our Eco Products to create an environmentally-friendly, recycling-oriented, low-carbon society and to continue to grow with our customers.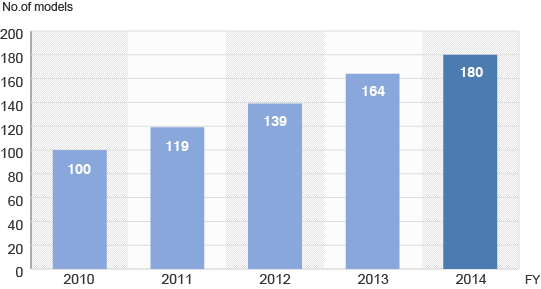 ENVIRONMENTAL CONSIDERATIONS IN COMPONENT PROCUREMENT
In order to deliver environmentally-friendly products to customers, it is important to understand the content of chemicals not only in our products, but also in our suppliers' products, to disclose and to communicate information smoothly. We are working hard to build a supply chain-wide system to this end. Cosel established Green Procurement Standards in 2004 and has been using them as terms of business with our clients. We conduct a regular review to comply with laws and regulations and promote green procurement.
ENVIRONMENTAL CONSIDERATIONS IN MANUFACTURING
We have developed compact soldering devices in-house to reduce the assembly cost by half and are now improving them. Compared with the conventional soldering tank, cost, MT (machining time) and installation area are reduced by 24-57% respectively.
Soldering Bath Comparisons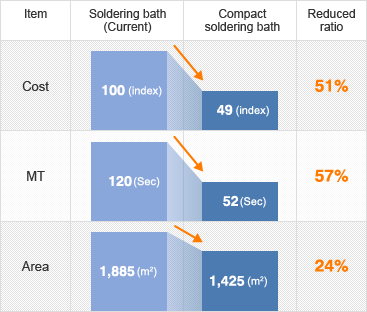 Power Usage Comparison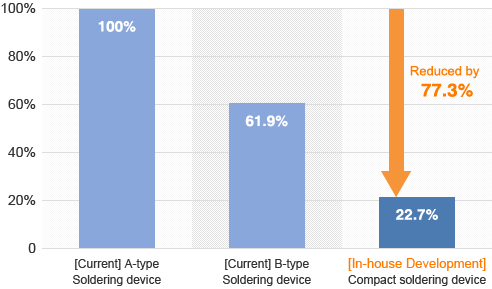 EFFORTS FOR EFFECTIVE USE OF RESOURCES
We are promoting and working hard on 3R activities from the perspectives of the reduction of environmental burden and the effective use of resources. In 2014, we set up the goal of having a recycling rate of over 95%, and achieved a 95.7% recycling rate. We will keep working hard on the reduction, recycling, and separation of waste.
Discharge Amount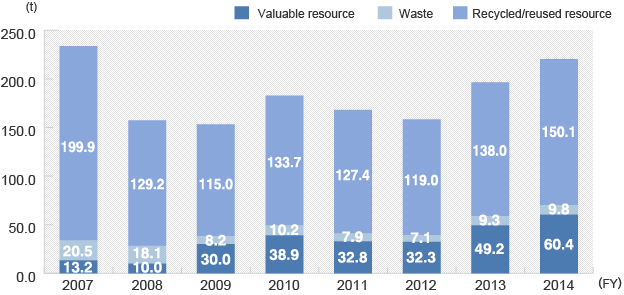 Recycling Rate
EFFORTS TO PREVENT GLOBAL WARMING
We have been consuming a large amount of energy power. In order to reduce power consumption, we are conducting energy saving activities. Since the establishment of the company, all the fluorescent lamps at our plants and offices have had pull switches and we have been making sure that the lights are turned off during breaks and when not in use to reduce the amount of power consumed. Today we utilize a power monitoring system we have established to call employees' attention by releasing power usage data by area on the Intranet. In addition, we set the goal of reducing CO2 emissions by 30% in 2020 compared with 2005. We will further promote our efforts for energy saving and global warming prevention by developing Eco Products and implementing measures to reduce energy consumption.
CO2 Emissions
CO2 Reduction Target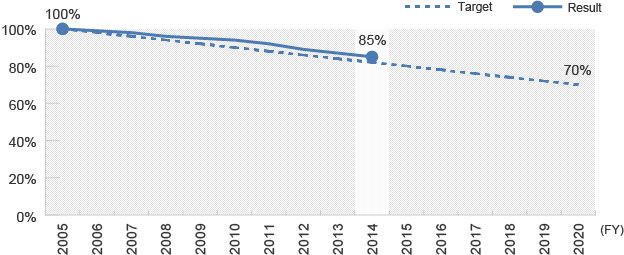 USE OF RENEWABLE ENERGY
In 2002, a 60kw solar power generator was installed on the rooftop of the new Head Office building. It generated approx. 60,000kwh per year (reduced CO2 emissions by approx. 25 tons.) A 50kw solar power generator was installed on the rooftop of the Tateyama Factory in 2004 and two more generators were added in 2007 and 2011. They generate approx. 200,000 kwh per year (reduce CO2 emissions by approx. 88 tons.) We also have installed a power generation display monitor in-house so that employees can check the amount of power generation anytime.
Power Generated by the Solar Power Generators